Restaurant Hours
Confirmed Reservations Are Required.
Please call: 403-337-2800 or Toll-Free 1-800-679-7999
Weekday Lunch: Tuesday to Saturday
– the grill is on from 12 to 2 pm
– light lunches and desserts served from 2 to 4 pm
Sunday Lunch Buffet: 12 to 1 pm
Sunday Afternoon Tea: 2 to 4 pm
Closed Mondays
Restaurant Events and Functions
We offer a variety of special dinners and events throughout the year including:
– South African BBQs on summer Saturday Evenings from late May to late September (weather permitting)
– Ladies Night with special guest speaker and/or entertainers, fashion show and delicious buffet meal
– Valentines Dinner
– Celtic Feast in March
– Seafood Supper in April
– Victorian Christmas Dinners
Please call for reservations: 403-337-2800 or Toll-Free 1-800-679-7999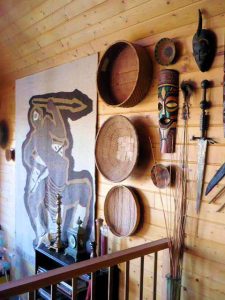 Dine in a relaxed, elegant atmosphere with an outstanding view of the Rocky Mountains.
Recognized as one of the best dining spots between Calgary and Edmonton, we lean towards a European country cuisine with many dishes original to our Creative Chef.
Our restaurant seats between 80 and 120 people for private banquet functions. The decor is resplendent with African art and tapestries reflecting the South African heritage of Patrick and Sue deRosemond.
We provide fine dining with our eclectic and original menu. Lamb is our specialty, although we do serve chicken, beef, fish and vegetarian meals. Fresh herbs, fine olive oils, aged Balsamic vinegars and market produce is used in our delicious dishes. Our meals are prepared using organic and natural products wherever possible.